October 5, 2017
Posted by:

admin

Category: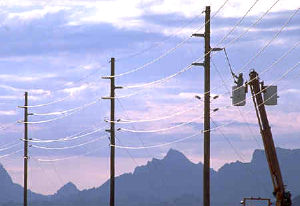 Electricity distribution companies are under pressure to improve reliability and system performance, while dealing with the ongoing challenges of aging infrastructure and increasing customer demands for higher reliability and power quality. In addition, budget and investment constraints require electric utilities to manage their distribution systems ever more efficiently.
POWER-tek offers world-class services to support distribution planning, engineering, and operations personnel. Our clients depend on us to help improve distribution reliability and power quality, optimize maintenance and asset management, and solve critical system planning and operational issues. POWER-tek's team of professionals includes internationally recognized experts in distribution engineering, with access to industry-leading analytic tools that can be applied to client's specific challenges.
Whether the client is looking to optimize the reliability improvement processes, prioritize your asset replacement strategy, better understand how distribution design, construction, and protection practices impact service quality, or transform distribution monitoring data into knowledge that enables better operational decisions, we have the solutions.
Distribution System Planning
POWER-tek offers specialized services for selection, installation, training and application of leading state of art software systems for medium voltage and low voltage distribution network modeling and analysis. Our services in this regard are unique as it covers not only the software package but its proper application to carry out integrated planning to develop comprehensive development plans with optimal techno-economic solutions.
The analysis carried out includes the following:
Modeling of network, equipment and loads
Load flow evaluations including evaluation of losses, voltage profiles etc.
Fault analysis
Optimal switching
Contingency analysis
What if analysis
Optimal capacitor placement
Voltage regulators
Distribution system reliability evaluations
Harmonic analysis and suppression methods
Protection coordination analysis
Motor start and locked rotor analysis
Load balancing
POWER-tek staff is specialized in integrating results of above analysis for preparation of network development master plans, loss reduction programs, network reinforcement and expansion programs, rural electrification programs, distribution network automation and reliability improvement programs.